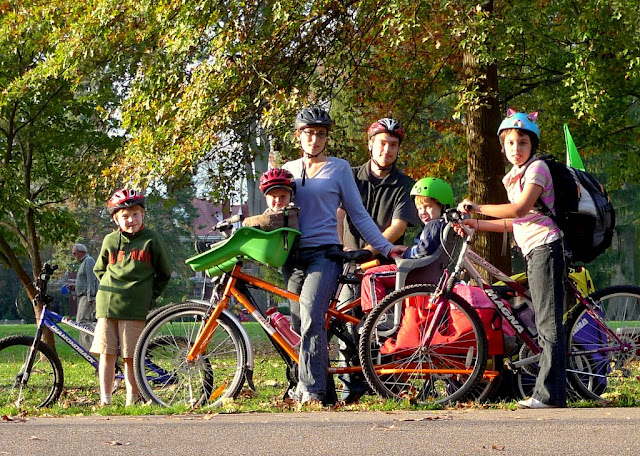 Stacy Bisker is the author of the family bicycling website and blog A Simple Six and took some time to tell us the story of her family's transition to bicycles as a primary mode of transportation.
We discussed:  getting into cycling as a family and finding the right bike, living in the most unhealthy city in America, "societal mirroring" and blazing the way for others, advice for those trying to follow their lead, Liz Canning's cargo bike documentary, ruminations on the east and west coasts, bicycles as a connecting force to bring disparate people together, bike camping with a family, TRANSPORTland on bike camping, and Team Sincerity's Crater Lake tour.
Tour de Clack is coming, led by our friend and former guest Matt Picio!  Tour de Clack is an inaugural bike ride in rural Clackamas County on July 7 2012.  It's free, and to draw attention to water quality projects done by the ride's sponsor, the Clackamas River Basin Council (CRBC).
Bike Safe Portland wallet-sized accident reports are available now in Portland bicycle shops near you!  Thanks to Josh Zisson from Bike Safe Boston and the Bike Safe Nation project.
Fine Print
email us: thesprocketpodcast@gmail.com
twitter: @SprocketPodcast
phone in or SMS: 503-847-9774
web: http://thesprocketpodcast.com
music: Ryan J. Lane (intro & outro) & Hurtbird (headlines)

Podcast: Play in new window | Download