From basements to offices to the 1967 Airstream trailer they currently record in, The Sprocket Podcast has brought well-rounded discussions on important topics to the fray, while never taking themselves too seriously.  Put another way, they serve up snark and heart in equal portions, with a core of sincerity.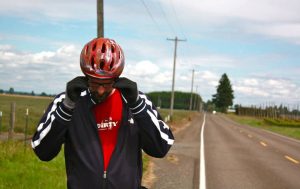 Brock Dittus (founder, cohost)
He's been a Pacific Northwest resident for his entire life, with the last decade spent in Portland, Oregon. He enjoys bicycling, camping, and exploring in the outdoors, and when it's raining he prefers coffee, books, and talk radio. He's had a passion for long-distance bicycle touring since his first outing with his wife in 2008, and is always interested in innovative solutions to car-free living while at home in the city. Music is a constant companion in his life, and it's always nice to have vinyl records, an iPod, or a guitar on hand to fuel that fire. He's been glad to be your host on The Sprocket since 2010. Drop a line, won't you? thesprocketpodcast [at] gmail [dot] com
Described by his friends as "35 and going nowhere," Aaron is a relative newcomer to Cascadia with only 3 years in Portland under his belt. His formative years were spent in the rural lowlands of south-east Michigan where he did things like can vegetables, pick apples, climb trees, and eat fried baloney. He's lived many different places and enjoyed learning various skills since then. He has many stories about the colorful places and people in his long life and hopes to use these experiences to fill the void left by Mr. Rhodes. When not on The Sprocket, Aaron wears a bunny suit and scares small children. (Nah, just kidding. That was my Halloween costume.) Enjoys!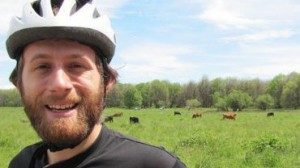 Brandon Rhodes (cohost emeritus)
He's an eighth-generation Oregonian and lifelong bicyclist. Over the years, he's dabbled in the usual Portlander hobbies: gardening, bicycle commuting, homebrewing, and relentless bookworming. His professional training is in environmental studies, politics, and theology, although he's rarely figured out how to pay the bills with any of those. Nowadays he helms the bicycle-based produce delivery service Rolling Oasis Grocers. He wrote his doctoral dissertation on how faith communities can relocalize to the neighborhood and human scale. More at BDRhodes.com.